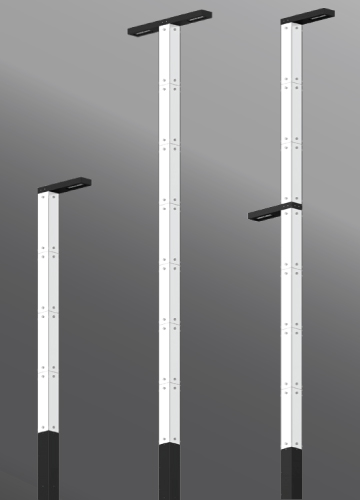 Aubaine
Model#: UAUB-200XX Ratings: IP65 IK08
Public realm contemporary column family. Stylish but technically precise area lighting solutions as part of a large flexible family.
Aubaine is an elegant minimalistic lighting column that is suitable for both modern & classic architecture. Ideal for creating visual guidance with exceptional visual comfort. The dual sealed optical chamber with integrated heat sinks houses a range of field interchangeable optically controlled LED's, providing Type II, III, IV & V distribution, as well as variations of this for precise light distribution requirements.
An example of this, is using a combination of Type II & Type IV distribution optics inside the same fixture. This product range is available in multiple wattage options and as single & double head styles. Customer specific wattages can be provided, contact the factory.
The sleek & minimalistic shape with illuminated tempered glass panels provides distinctive lighting effects by night and decorative urban effects during the day. Suitable for use in pedestrian precincts, building surrounds, shopping centers, squares, parks and parking lots.
Poles can be provided with GFCI boxes positioned to specific heights specified by the customer. A flat low profile hand hole cover with vandal resistant screws is provided for easy installation. Contact factory for pole height requirements.
Internal house side shields are available as an option. Available with a selection of integral electronic drivers & dimming electronic drivers as well as a provision to install wireless lighting controls to integrate with building management systems, as well as pole mounted occupancy sensors.
The Aubaine side panels can be specifed for color changing RGBW configuration.
Spec Sheets and Downloads for Aubaine
Specification Sheets
| | |
| --- | --- |
| Aubaine 1 Single Head Area Light | |
| | | | | |
| --- | --- | --- | --- | --- |
| Model No. | Watts | | Kelvin | Dimmable 1 - 10V |
| UAUB-20001 | 54 | 6193 | | • |
• = Amber LED
| | |
| --- | --- |
| Aubaine 2 Double Head Area Light | |
| | | | | |
| --- | --- | --- | --- | --- |
| Model No. | Watts | | Kelvin | Dimmable 1 - 10V |
| UAUB-20011 | 2x54 | 2x6193 | | • |
• = Amber LED
| | |
| --- | --- |
| Aubain 3 Double Step Head Area Light | |
| | | | | |
| --- | --- | --- | --- | --- |
| Model No. | Watts | | Kelvin | Dimmable 1 - 10V |
| UAUB-20021 | 2x54 | 2x6193 | | • |
• = Amber LED

*Contact factory for higher wattage