Details

Category: Latest Products
Published on Friday, 18 November 2016 17:30
Written by adminusa
Hits: 2029

Odessa Cluster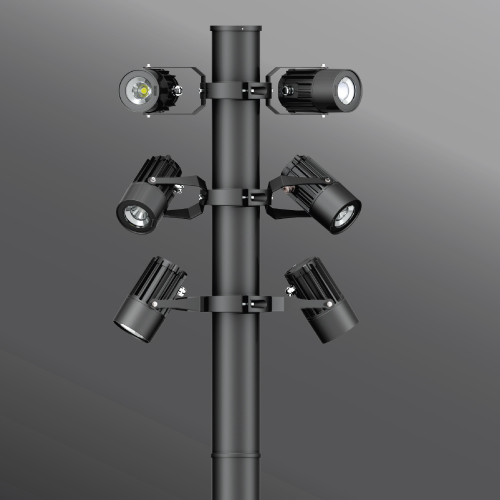 Odessa family projectors with a modern aesthetic design are available as pole mounted floodlights with pole clamp settings. Each individual floodlight can be specified with different beam distributions, as well as wattages if necessary to provide the perfect lighting solution for any environment. The floodlights can be aimed in different directions to highlight specific features or elements in the environment, as well as provide security when illuminating dark areas on campuses and parks.
Model
Lamp
Power
Lumen
Beam
|| Small Odessa 1 ||
UOD-21001
3 COB
3x21w
3x1673
23˚ | 32˚ | 43˚
UOD-21002
6 COB
6x21w
6x1673
23˚ | 32˚ | 43˚
|| Medium Odessa 2 ||
UOD-21011
3 COB
3x36w
3x3173
19˚ | 28˚ | 38˚ | 54˚
UOD-21012
6 COB
6x36w
6x3173
19˚ | 28˚ | 38˚ | 54˚
Quantum Cluster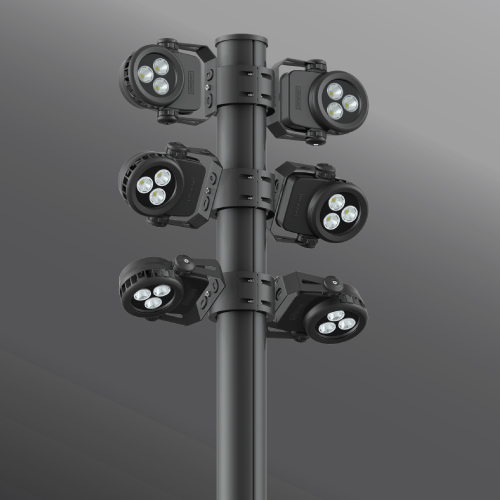 The Quantum small size LED cluster column projector. The high pressure die-cast housing have integrated heat sinks, as well as internal waterproof control gear housing compartment. The mounting arm is attached to a ratcheting tilting adjustment that is lockable once the desired aiming position has been achieved. The luminaires are available with RGBW or static white.
Model
Lamp
Power
Lumen
Beam
|| Quantum 1 Single ||
UQA-21001
3x3 COB
3x42w
3x3634
19˚ | 33˚ | 47˚
UQA-21002
3x7 RGBW LED
3x31w
3x1390
11˚ | 33˚ | 50˚ | 23˚x42˚
|| Quantum 1 Double ||
UQA-21011
6x3 COB
6x42w
3x3634
19˚ | 33˚ | 47˚
UQA-21012
6x7 RGBW LED
6x31w
6x1390
11˚ | 33˚ | 50˚ | 23˚x42˚
Jet Cluster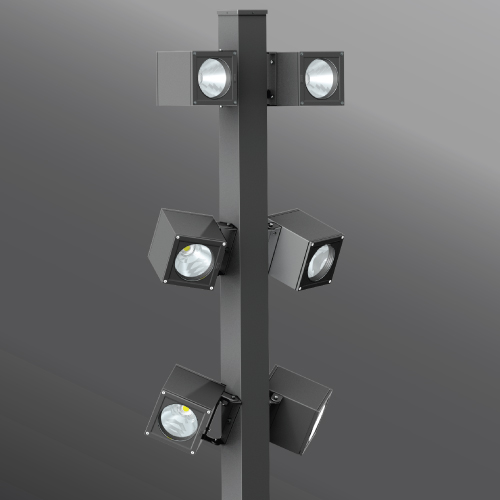 The Jet family of floodlight projectors has a modern cubic square design with a new range of high performance LEDs and field changeable optics. This square style cluster column floodight is designed for applications such as signage, scuptures, landscape, residential areas and recreational areas. The versatitility of this product allows for different configuartions of fixture quantities, as well as beam distributions.
Model
Lamp
Power
Lumen
Beam
|| Jet 56 Single ||
UJE-20011
3x1 COB
3x39w
3x3104
13˚ | 20˚ | 40˚ | 61˚
|| Jet 56 Double ||
UJE-20012
6x1 COB
6x39w
3x3104
13˚ | 20˚ | 40˚ | 61˚

Mic Cluster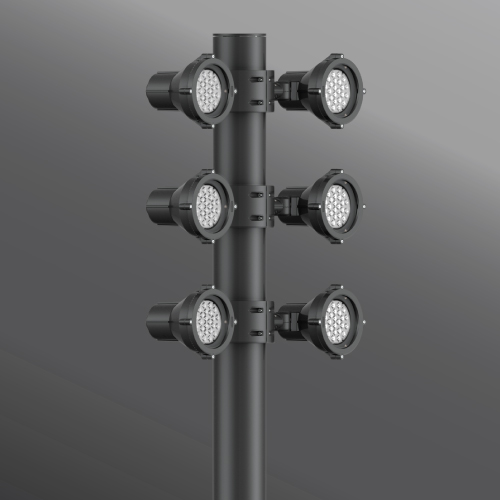 A decorative event column using a variety of LED floodlight wattages and beam spreads with a selection of accessories. Ideal for precise lighting of facades, sculptures, signage and architectural details. This floodlight is configurable and allows the customer to specify Mic luminaires that vary in wattages from 20w,30w,40w and 50w fixtures to be mounted on the pole, as well as a variety of bem spreads to suit the design.
Model
Lamp
Power
Lumen
Beam
|| Mic 3 Cluster ||
UMI-21051
6x18 LED
6x20w | 6x30w
6x1478 | 6x2289
13˚ | 26˚ | 41˚
UMI-21052
6x24 LED
6x40w | 6x50w
6x3240 | 6x4577
13˚ | 26˚ | 41˚